You'll always know what's going on with our organization.
Just bookmark this page and check back often for the latest programs and events.
26
27
28
29
Jun 30
Jul 1
2
18th Annual Legacy of Caring Breakfast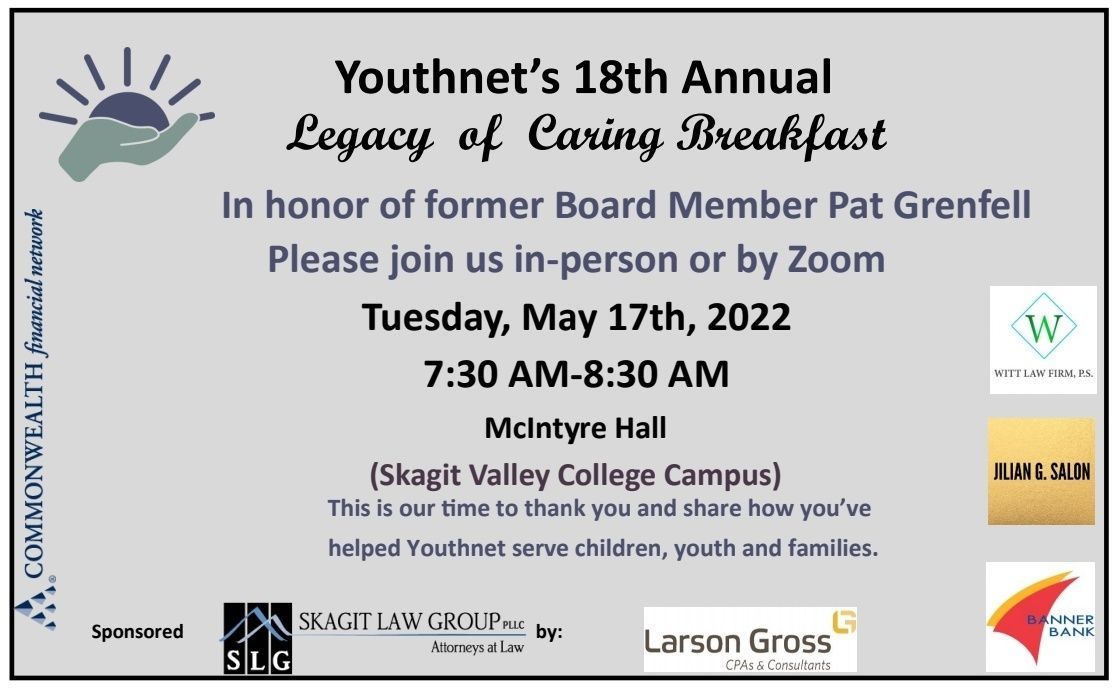 We're back and in-person! Please join us for our annual gathering of Youthnet supporters, staff, donors, Board Members, friends, children, youth and families served, and those we have yet to meet.
We are excited to be back in person at McIntyre Hall for our annual event. We have certainly missed all of you and are looking forward to seeing your faces, although you will still be required to wear a mask.
It's been a long two years and we hope everyone has come through the pandemic healthy and well. things at youthnet have changed and we have a lot to share. Thank you for hanging in there with us and helping us continue to serve the community with your dedication and contributions toward programs for children youth and famiiles.
As we transition back to in-person, we acknowledge that not everyone will be comfortable gathering together in shared space. We are therefore offering the option for you to attend the event remotely by Zoom. Just click on the link below to register and you will be able to join and watch from the comfort of your own space.
Online Foster Care Info Meeting
Participants will learn: why kids and teens come into foster care, what services are available to kids and families, who can become a foster parent, what is required for licensing, the differences between licensing through a nonprofit and the state, and how to get involved.
Who we are: Youthnet is a non-profit no-fee agency established in 1969. We license, make placements, and provide services to children, youth, and families.
Service area: We license foster families in Whatcom, Skagit, Snohomish, Island, and San Juan Counties for children of all ages. Youthnet recently expanded to also license foster families in King, Pierce, Kitsap, Clallam, Jefferson, and Gray's Harbor Counties with a focus on school age children and teenagers.
Certificates: If you are interested in becoming licensed, all participants will receive a certificate and this meeting qualifies as your orientation requirement.
If you are ready to start the licensing process or have a question, please reach out to Holland Wood at: