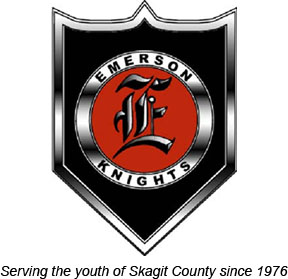 Description
Since 1976 Emerson High School has provided a secondary education program that is an alternative to conventional public high school. The School has gone through a certification process, and is recognized by the Washington State office of Public Instruction as a State Education Center [WAC 180-90]. In accordance with State law, the educational program operates 180 days per year and is open to students referred by their resident school District. Emerson High School is conveniently located within walking distance of numerous community services and public transit.
Service Delivery
Emerson High School provides two programs. The majority of students attend the Monday-Friday full day CORE program. The remaining students are served through the Contract Based program that allows for greater flexibility to accommodate students with unique health or employment considerations. The curriculum for the Emerson program focuses on competencies identified in the State Essential Learning Requirements [EALRS]. In accordance with State law, students must pass the High School Proficiency Exams and meet other requirements to receive a diploma. Students receive credits on a semester basis. Upon completion of their home District graduation requirements, students are awarded a regular high school diploma from their resident District.
The basic structure and organization of Emerson is similar to any regular school setting. The "alternative" title refers to the method of delivery of services. Because class sizes are smaller, the students enjoy a higher level of interaction with teachers and peers. Students can receive immediate assistance and feedback on their performance. The school places an emphasis on multi-modal, experientially based instruction, and off campus learning opportunities are utilized to support both academic classroom instruction and to develop personal life competencies. Students participate in a wide array of community events and provide volunteer service to the community.
Recognizing that a number of students face special challenges in being able to complete their education, Emerson has incorporated on-site student assistance/intervention services that focus on helping students, 1) get to school, 2) stay in school, 3) succeed in school and 4) transition to independent adult living.
Emerson currently employs both full and part-time State certified teachers, a student support specialist, part-time registrar, attendance/registrar assistant and program administrator.
Funding
The principal source of funding comes from per pupil fee for service charges to Districts that refer students to Emerson. The fee is based on the State Basic Education Allocation (BEA dollars) that a District receives for a student. Operation of Emerson also depends on grants and donations, and the School receives vital in-kind support of goods and services from the community.