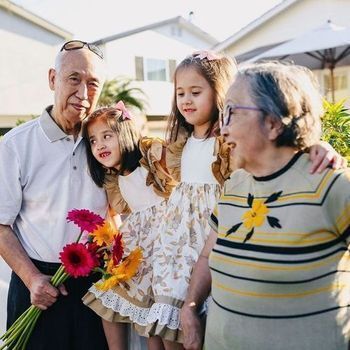 ---
Kinship Care & Suitable Others Licensing
Kinship Care is when a grandparent, aunt, uncle, cousin, sibling, other relative, close family friend, or unrelated kin takes care of a child in their life. Youthnet believes that it's important for a child to be with an adult that they are familiar with.
In 2023, the Department of Children, Youth, and Families (DCYF) increased their commitment to license kinship caregivers and prioritize placement with these caregivers. Youthnet knows that when children are able to maintain these connections and their culture, they experience more stability in addition to other benefits, such as: 
Less time spent in foster care
Greater likelihood of developing & maintaining long term relationships within their families & communities
Maintaining ties to their cultures, backgrounds, and customs
Increase in positive behavioral and mental health outcomes
Increased opportunity for normalcy of childhood experiences
---
If this sounds like your situation, please learn more about the licensing process for Kinship Caregivers by attending Youthnet's foster parent information meeting or scheduling a meeting with our recruitment team: Foster Care Informational Meeting 
---
Kinship caregivers who get licensed receive the greatest amount of financial assistance and ongoing support. Caregivers are assigned a licensor who can help with questions through the process.
Youthnet is contracted with the state to license foster homes and provide ongoing support and services, such as:
Foster Parent Reimbursement and Liability Plan for unexpected damages
Monthly foster care reimbursement for youth (0-17) in foster care
Monthly foster care reimbursement for young adults (ages 18-21) who choose to remain in Extended Foster Care
An assigned Youthnet licensor to continue support as needed 
Dedicated Youthnet Case Manager to provide caregiver support
Youthnet Visit Supervisor providing transportation and supervision during your child's visits
Monthly foster parent Zoom support groups (refer to calendar)
Quarterly foster parent trainings
24/7 On Call support
Respite
Case Aide Services (for youth who qualify per DCYF)
When we provide case management, our goal is to support all of the individuals in the process. Neglect, abuse, and moving from home to home creates complex trauma for kids in foster care.  They have had to overcome difficult life experiences at a young age, and sometimes, this is expressed through challenging behaviors. Caregiving is tough work, and it's important to us that you know no one is ever in it alone. 
**Youthnet is a no-fee agency. There is no cost to license with Youthnet or to receive our services**
---
Youthnet Values & Vision
Youthnet welcomes adults of all genders, races, and religions. We also welcome single parents, partnerships, married couples, and LGBTQ parents. Kinship caregivers can be renters or homeowners. https://training.relationalmentor.com/ 
Neglect, abuse, and moving from home to home creates trauma for kids in foster care.  They have had to overcome hardship at a young age, and sometimes, this can be seen through challenging behaviors. Youthnet believes treating kids with kindness and having compassionate relationships help heal trauma. We feel it's important to understand that big behaviors are likely reactions to what they've been through.
In order to make sure that Youthnet is the best fit for your family, we have other values that we want our families to share:
Willingness to grow, learn, and try new parenting skills.
Desire to meet kids where they're at and grow with them as a family
Support the unique identity of the child including their culture, religion, and/or sexual orientation, gender identity and expression (LGBTQ+).
Willing to be a team player. Communicate with the youth's social worker and case manager and follow the case plan. 
The use of positive discipline skills. You must use discipline that is appropriate to the child's age and development.  You must not use physical punishment or verbally abusive, neglectful, humiliating, or frightening punishment. 
Commitment to being a healthy adult and providing a safe, stable, and structured environment
Commit to not just the physical safety of the child(ren) in your home, but also their felt (emotional) safety
---
Service Areas
We license kinship families in Whatcom, Skagit, Snohomish, Island, King, Pierce, Kitsap, Clallam, Jefferson, Mason, Thurston, and Lewis Counties for children and youth of all ages. 
---
HOW DO I BECOME A LICENSED KINSHIP CAREGIVER?
Call (360)-420-2206 or send us an email and we will walk you through every step of the process! 
Overall, to become licensed, the following qualifications must be met:
Review our Steps to Becoming a Licensed Kinship Caregiver
Be over 18 years old
Be able to pass a criminal background check. **If there are concerns, reach out to your licensor or DCYF worker**
Meet kinship home safety requirements
Attend a 12-hour Kinship Core Training (online and due within 3 years of being licensed)
Complete 30-minute online Medication Management training
*Complete nationally certified infant/child/adult First Aid/CPR and Bloodborne Pathogens training if the youth in your home has medical needs per DCYF
*Complete a TB test with negative results if the youth in your home has medical needs per DCYF
Complete all required paperwork
Participate in a home study with a Youthnet licensor
Once licensed, kinship caregivers must continue to meet all safety requirements and needs of the child in their home.
* Dependent on the needs of the child/youth in your home determined by DCYF
---
FAQ
Who can I discuss a child's case with? 
You should only discuss a child's case and why they were removed with people on a
need-to-know basis. A babysitter, other family members, or friends can know about your
child's allergy or behavior needs, but doesn't need to know why the child is in your care.
Why should I license with a Child Placing Agency (CPA)?
You should license with a CPA if you are wanting individualized support for yourself and
the child(ren) in your home. Social workers are busy with high caseloads and are
focused on permanency planning. At Youthnet, you will receive a case manager who can
help you understand the legal behind the scenes with DCYF as well as focusing on
day-to-day support for you and your family.
What happens during the home study process? 
The home study process is a series of interviews with you, your household members,
and the children in your home. The process typically takes 3-4 weeks to complete.
During the interviews, you will be asked questions about your past, your parenting style, and why you want to be licensed. Interviews usually last 2.5 - 3 hours maximum and are on a schedule you create with your licensor. 
What is an emergency evacuation plan?
An emergency evacuation plan is a written document that you will post in your home for
yourself, children, and household members to view. Your licensor will help you review
this document and answer any additional questions 
How long will it take to become licensed?
In general, the entire licensing process takes approximately 120 days. From the time
you submit your application/background packet, you and your Youthnet licensor will have
90 days to complete all remaining paperwork, documentation, interviews, and the
home inspection. From there, your Youthnet licensor will write your family's Home Study
and submit this to the state for approval. Their approval process typically takes about 4
weeks.
What do you look for in the home inspection?
Your Youthnet licensor will do an initial walk-through of your home and let you know
exactly what you need to meet the minimum licensing requirements. Most families
already meet many of these requirements and just need to make a few adjustments. If
you'd like to see the inspection checklist in advance, click on the link above.
---